Creating graphics for social media, your own blog or website – what used to take a lot of effort can now be done quicker with software tools. One of these tools is Canva. But what exactly is Canva? In this article, we will introduce you to the graphic tool in more detail and show you what possibilities the software offers.
Perhaps you have also been faced once – or several times – with the task of creating appealing graphics for your company's channels. Be it for social media platforms like Instagram, Facebook, Twitter, the business network LinkedIn or your own website or corporate blog. And almost every marketer knows: appealing graphics can significantly improve the performance of a website, blog post or social media post. Especially on Instagram, but also on other channels, more and more accounts are using fancy (info) graphics, e.g. to prepare quotes, present statistics or cast photos in designs. The primary goal: The graphics should be of high quality and attract attention. The challenge: freeing up resources for the creation of such graphics.
In the past, creating graphics was usually the job of graphic designers. Today, it sometimes has to be done much faster and professional resources are not always available. However, the possibilities for creating graphics have also expanded massively in recent years and have become more and more intuitive to use, even for "beginners". In addition to highly professional and expensive software solutions such as Photoshop, smaller tools, some of them free of charge, have increasingly established themselves with which graphics can be designed quickly. One of these tools is Canva.
What is Canva? – a closer look at the tool
Especially on social media, many graphics are created with the tool Canva. In August 2022, the tool had 75 million monthly active users. On average, 150 designs per second are created with Canva worldwide. It's fair to say that Canva is popular. After all, the software is one of the younger graphic tools. Canva was launched in Sydney in 2012 and has since been able to raise $300 million in investor funding. According to its own information, the company was already valued at six billion dollars in 2020.
How Canva works
In its basic idea, Canva is a graphic design platform, which since 2019 also includes the German image databases for (free) stock photos Pixabay and Pexel. The principle of Canva is very simple: Using drag and drop, employees can combine photos, graphic elements, fonts and videos into a complete work of art. The clou behind it is the simple usability. The whole thing is very beginner-friendly. Below, we'll show you a quick step-by-step guide on how to get started with Canva.
1. choose format and dimensions
First, you choose the format. For example, this could be an Instagram story, a Facebook post, or a website banner that needs to be designed. Canva offers the appropriate sizes for different channels as a preset. This means that graphics can be created directly for each channel that are tailored to the ideal size. Users can also create designs based on their own needs. By the way, here are tips for creating an advertising banner.
2. use design templates or get creative yourself
When it comes to the actual design, you can get started by yourself – or use one of thousands of templates. Especially for users who have no or very little experience in graphic design, these are a very good start. The templates are professionally designed and cover a variety of styles – from minimalist to opulently decorated. All the individual elements can be edited and customized. Colors can be used to match the corporate colors, images can be used, elements can be moved or deleted, and text can be inserted.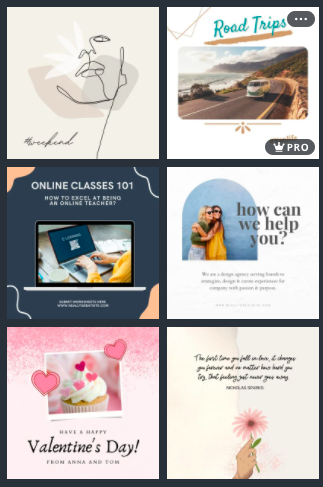 3. use alignment help and additional elements
So, with the help of the templates, you can get well acquainted with the world of graphic design. And create your own designs pretty quickly. Here Canva impresses with individual, smaller features. For example, you can align elements very well. If, for example, the logo is to be aligned with a photo in the design, visual guides help with orientation and the element to be moved "magnetically" sticks to the right place. In addition, the design can then be spiced up with graphic elements such as arrows, cartoon characters, drawings, GIFs or stickers. There are almost no limits to the imagination.
From a pure graphic design platform to an all-rounder tool
Canva started out as a graphic design platform. In the meantime, however, the tool has been expanded considerably. Thus, the focus is no longer exclusively on graphics. Most recently, Canva announced the new Canva Docs tool in its newsroom. Canva Docs is a tool for creating documents of various types and – according to the company – "bringing them to life". Canva Docs is said to be able to create documents that combine rich text, media files and data visualizations. In addition to Canva Docs, the company also announced other tools or features within existing tools recently:
Canva Video: Video Editor was launched by Canva back in 2021. Lately, the software component received an update. With this, it is now possible to create a video with animations, audio and transitions from any design. In addition, video backgrounds can be removed and redesigned with one click.
Canva Websites: Through this tool, businesses can intuitively design responsive and interactive websites. Canva Websites is not only designed for small businesses, but can also be used for large projects.
Over the past few years, Canva has evolved into an all-around platform for multimedia content. In addition to the latest tools and features, the platform offers numerous possibilities to create individual content intuitively and quickly, without special graphic skills. This includes print products such as flyers, postcards, wall calendars, posters, etc. as well as presentations, covers and much more.
Overview: What can companies design on Canva?
Due to the wide range of options Canva now offers, we've put together a summary of the most important content pieces that can be easily designed with Canva:
Graphics for Social Media Posts: Facebook cover images, Youtube thumbnails, TikTok backgrounds, blog banners & backgrounds, etc.
Marketing materials: invitations, posters, flyers, tickets, programs, logos, brochures, whitepapers, business cards, coupons, banners for websites, headers for mail/newsletter distribution
Documents: presentations, letters, resumes, invoices
Videos: Youtube, animated presentations, animations for social media, custom videos.
And of course, you can use Canva to edit anything that can be classified as an image.
Who is Canva worthwhile for?
Canva is popular not only because of its ease of use and the relatively quick way to create chic designs, but certainly also because of the free basic version. With it, employees can already create very good basic designs. But of course, at some point you will reach the limits. The Pro version is worthwhile even with a relatively small team or for companies that regularly need designs. Because with the upgrade there is not only a larger pool for images and design elements, but also important business tools.
Additional features of the Pro version of Canva
In the Pro version of Canva, you can, for example, store your company colors. Or automatically align designs to different sizes, for example, if you want to publish the same post via a content marketing tool. An example: you need one post for Twitter and one for Instagram: Canva Pro creates a new version of your design for the other platform from the base version. In addition to this intelligent resizing, the Pro version also provides you with features such as content planning and the background remover.
But as it has been said, even the basic version is extremely multi-faceted and should cover the needs for many businesses. Canva is available for download both as a browser version and as an app for iOS and Android.
Conclusion
Canva is popular among design beginners as well as marketing experts for good reasons: It certainly can't replace professional designers, but it offers a good introduction to the world of graphic design and helps with many everyday tasks related to graphics creation. Beginners quickly find their way around and quickly design graphics for business use on their own.