At Christmas time, the last vacation of the year usually arrives. And as with summer vacations (or absences in general), the question of the right absentee note for Christmas pops up. For the holiday, it can be a little more festive. We've put together ten out of office note ideas for the holidays for you. 
What do you write in your out of office note? Probably the most important data around your absence, be it vacation or business trip. If you are not personally available, the out of office note is the tool of choice to automatically answer incoming mails and not leave the sender in the cold if the response to the request is not received within a few days. An automatic out of office notification is therefore very important for you and your company as a tool for communication. After all, customers want to know when they can expect an answer. Therefore, it is also an important part of the out of office note to provide information on whether and to whom, if applicable, the incoming mail will be forwarded.
More than a vacation: the end-of-year festive season
Christmas once again takes on a special role for the out of office message. Basically, holidays like Christmas and Easter provide an opportunity to make the automated message a little more personal. At Christmas time, dear words, maybe a little poem and other ideas are ideal to spice up the out of office message template. This way, the message directly becomes a nice greeting to your customers as well. But instead of a simple out of office note template, what can you include in the message with the relevant dates about your end of year vacation? Here we have compiled eight creative ideas and templates for your Christmas out of office note, which you can use for inspiration and of course customize as you like.
7 Ideas and Templates: Christmas Out of Office Note
When you think of Christmas in the classic sense, you usually think of family gatherings, socializing, coziness and peace. You can ideally use this basic mood for your message of absence.
1. Vacation from social media – why not recommend an app?
We are all on social media platforms a lot. Often, a lot of time passes, and at the same time, life quickly seems hectic. At Christmas, slowing down is exactly the right thing to do. There are now numerous apps that help us take a vacation from social media and concentrate fully on ourselves and our family. Not a bad idea for Christmas, is it? Instead of getting bogged down on social media over the holidays, why not suggest exactly that to your customers in your away note: reflective time, without social media stress. Of course, however, you should make sure that this suggestion does not contradict your company's goals and appearance. If you work in a social media agency, for example, taking time off from social media can also be misunderstood. A bit of tact must therefore be with this form of absence note for Christmas.
"Christmas is a time for socializing, but also a time to slow down. From xx.xx. to xx.xx. I will therefore also be out of the office and will enjoy the time with my family / friends. By the way, I like to use the app xx for a contemplative, quiet Christmas time in order to consciously take a break from social media. Maybe this is also something for you? I wish you and your loved ones a Merry Christmas and a Happy New Year."
2. Shorten the "waiting time" and make creative media recommendations
An e-mail message with information about your absence usually means that your customers have to wait until their request is processed. We therefore recommend, if possible, always referring to who can help customers in urgent cases. Discuss whether one of your colleagues can deal with urgent matters. However, smaller companies in particular often have company vacations at Christmas. How can you shorten the waiting time for your customers in this case (but also otherwise)? Our suggestion: Recommend content that your customers might like during this time of calm and reflection. By the way, we have covered this topic in detail in our general out of office note templates.
At Christmas, you can recommend more than just professional content, such as articles from your blog or from other (partner) magazines. Think outside the box: A book that you can recommend is a personal touch. On social media, by the way, such ideas as book recommendations are also suitable for launching nice little team campaigns – such as "My favorite book is…" with an appropriate short reason and a small teaser about the book content. Simply transfer this idea to your out of office email. This works not only with books, but also with movies or music.
"Over the holidays, our office is closed from xx.xx to xx.xx. We will be happy to be there for you again from xx.xx. We wish you a merry christmas time, a good start into the new year and are looking forward to be back for you soon. To make sure the waiting time is not too long, our team has put together a best-of list of personal movie recommendations for Christmas for you: Film xxx – short one-sentence description of what excites the colleague about this film; Film xxx – …
Each colleague should ideally make a film recommendation in this example.
3. The team greets for Christmas
Christmas greetings are an important part of corporate communication. You can also use the Christmas greetings very well for your out of office note. Especially if your company takes a company vacation. A nice idea here is to take a Christmas photo of the team and integrate it into the message. Here we have an example for you: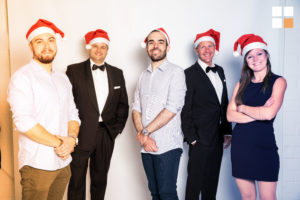 "From xx.xx. to xx.xx. we celebrate Christmas and the New Year together. We look forward to being back for you in 2023 and wish you and your loved ones a Merry Christmas and a Happy New Year."
4. Own media content for automatic holiday message
Especially for companies from the creative industry, their own content for the Christmas mail template is particularly suitable for sending customers an imaginative out of office message. In addition to usual information, you can, for example, shoot your own small Christmas video that you integrate. However, make sure that the video is really short so as not to go beyond the scope of a mail. Otherwise, the sending via Outlook or other mail providers can hook. In the Christmas video, for example, you and your team can say thank you for the past year and personally wish everyone a Merry Christmas. In the text, you then only mention the necessary information about the absence.
5. Always a good idea: a few festive lines for peaceful holidays
If you don't want to rely so much on multimedia content, you can also include a short poem in the out of office e-mail. This doesn't have to be great poetry at all. A few rhyming verses, perhaps with a little digression about your company, are enough.
"We wish you – no question – wonderful holidays! With the scent of pine and candlelight, let every day be joy and happiness."
Combine a small Christmas poem directly with a team picture, provided that you have Christmas vacations as a company and your customers generally receive an out of office e-mail over the holidays.
In addition to the poem, the most important information should of course also be included in the out of office message. For example, whether the mails will be forwarded or whether colleagues can be reached in urgent cases (including their mail contact).
6. GIFs in the Christmas out of office note lighten the mood
The small, moving images can often be seen in mails, especially in the creative sector. GIFs are also suitable for the Christmas season to brighten up the mail templates for one's own absence and to spread a little Christmas spirit. However, GIFs should be selected just as carefully as poems, pictures or videos. Too humorous in a more traditional corporate environment is less fitting. A Christmas GIF with Santa or Christkind or Christmas tree and small lettering, however, is always a possibility to add some personality to the out of office note.
7. Humor at Christmas, if it may be a little flabby
Humor is not bad – at least in moderation and if it fits the company and the industry. This is also true when you write the Christmas out of office message. There are many very light-hearted Christmas sayings that you can use for an out of office e-mail, if the circumstances allow. How much humor is possible always depends on your company's clientele as well. For example, a slightly more flippant mail during your absence could read:
"Lying under the Christmas tree – too much food, too much hustle and bustle. But from xx.xx. I am back for you and look forward to helping you with your concerns. I wish you a Merry Christmas and a Happy New Year."
You notice: This form of Christmas out of office message is a tightrope walk and probably less suitable for customers in most cases. Within your own team, however, such a mail can definitely work, as long as the team has the same sense of humor.
Conclusion about the out of office note for Christmas
Out of office notes can be used for special greetings on holidays. This is especially true for Christmas. Try one of our ideas or modify it with your own ideas. This way, a simple e-mail with the most important information about your own absence or the company vacations can quickly become a personal greeting to your customers.