Companies are increasingly communicating on a variety of channels. In addition to the website, social media platforms and – in e-commerce – online stores and marketplaces are becoming more important. Online communication often relies on content management systems (CMS). But how do you actually find the right CMS for your business? Which requirements should you take into account when choosing a CMS? This article provides you with a detailed checklist for CMS selection.
Download Checklist CMS Selection
Content management systems are the heart of communication in content marketing. The software handles the playout of various content formats on website, social media and e-commerce channels. Basically, on all digital touchpoints that are relevant to your customers. This makes it all the more important for companies to find the right CMS solution for them among the many available. We offer you a checklist for CMS selection. You will find all the important key points to help you find the right CMS system for your business. Download our checklist here for free. In the following article, we have also briefly summarized the most important information on CMS selection for you.
By clicking on the download button you agree that your company e-mail address and your company name may be transmitted to marketingandtech.com (Digital Diamant GmbH) for advertising purposes, also by e-mail, and for market and opinion research. With your consent, you will also automatically receive the marketingandtech.com newsletter. The declaration can be revoked at any time via a link in every e-mail.
CMS providers with industry focus
Not every content management solution is equally suitable for every industry. Many CMS providers specialize in a few industries. As a result, some CMSs have features that are specifically designed for one industry. Of course, there are also CMS providers that are all-rounders and serve customers in all industries. The question you should therefore ask yourself is: Do you need special functions that are only tailored to your industry? For example: do you publish content in formats that are outside the normal content coverage such as high-resolution 3D models in the automotive industry? Then you should rather consider CMS providers that specifically focus on customers in your industry.
Required user interface languages
In addition to industry-specific requirements for the CMS software, you will of course have a company-specific catalog of requirements. This includes, among other things, the scope of languages supported by the CMS user interface. Especially in international business, the CMS should have the most common languages. For this reason, most content management systems offer English, French, Spanish and Italian as standard languages. Think carefully about which language range is relevant for your business. Do you need special national languages for your website or other channels in addition to common international languages? Especially with regard to rather unusual languages such as Chinese, Arabic or Russian, you should pay attention to the coverage when choosing a CMS. Some content management solutions offer other languages only on request – and possibly for an additional charge. Or languages are not provided individually, but only in language packages.
Functionality
One of the most important aspects when choosing a CMS is the range of functions. Anyone who has used open source CMS (such as WordPress) knows that features can quickly reach their limits. Even if many open source solutions like WordPress already provide extensive features. For an enterprise CMS, you should name your requirements in detail. The basic features we looked at in the CMS solutions market overview include a WYSIWYG editor, the preview function, a user authorization system, an integrated search function, coverage of a responsive design, and various installation options. Most CMS software providers have all the queried basic functions. However, there are, for example, only a few providers that can prepare content for a mobile app. Therefore, define exactly which features you want from the content management system. Which channels should your marketing be able to use via the CMS (website, social media, newsletter, etc.)? Should users be given different permissions? Do you have a mobile app that should also be provided with content via the CMS? How should the software be deployed (on your own server or as a SaaS solution)? Which integrated functions do your employees need to make their work easier? Depending on the functional requirements, you should not only consider the basic features when choosing a CMS, but also advanced functions and features. For example, does the CMS provide workflow management? Or functions for clear content stacking? What about personalization?
Personalization in content marketing – headless CMS and DXP
Personalization in content marketing is now more important than ever for companies. Customers want an individual (buying) experience on a wide variety of channels. In this context, it is even more crucial for an excellent customer experience that content and information are consistent and appropriate to the customer journey. Many CMS providers have adapted their software solutions to this end. Headless CMS solutions are now part of a good marketing technology (MarTech) stack. They enable the marketing team not only to personalize content, but also to deliver it consistently across different channels. The next step in the optimal customer experience is the Digital Experience Platform (DXP). It seamlessly connects the CMS with other marketing technologies to make content personalization even better and more flexible. When selecting a CMS, you should therefore pay attention to new technological possibilities when it comes to personalization. Consider where you want to go with your content marketing. The goals in content marketing have a significant impact on the CMS selection.
Interfaces and extension possibilities
When choosing a CMS, you should take a close look at the interface coverage and extension possibilities. As mentioned, CMS providers have already converted their software solutions to a headless approach. Some already offer the possibility to use the CMS as the core of a DXP. But not all of them. Interfaces and extension possibilities are an essential aspect for the CMS selection. Because they offer you possibilities to flexibly adapt the CMS system to new needs of your company. Therefore, ask yourself the following questions:
Which interfaces do I currently need for my existing systems and output channels (website, newsletter, social media, integration of a shop system, etc.)?
Which additional apps and plug-ins are relevant for my content marketing (e.g. automation plug-in, PIM integration, linking of own community solutions or form and landing page builder, etc.)?
What other features will become important for my business needs in the near (and distant) future (e.g. AI-based personalization, natural language generation, data analytics, etc.)?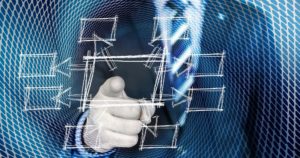 Interfaces and expansion options should be selected to be future-proof.
Legal aspects
In addition to functions, interfaces and expansion options, legal criteria play a role in CMS selection as well. Keyword: data protection. Therefore, check the following points:
Is the CMS provider certified (e.g. DIN or QMS)?
How does the CMS provider ensure protection against cyber attacks?
How are security-related incidents documented?
Is personal data anonymized?
Does the CMS provider have a data protection officer you can contact?
Is there a standard contract for commissioned data processing?
Where is the server location and jurisdiction?
Companies should definitely attach importance to GDPR-compliant processes in the data protection of the CMS provider. Last but not least, the tasks of a CMS system include the processing of personal data. Certification helps companies, for example, to segment providers on the market according to company-specific data protection needs and to make a preselection here.
SEO criteria
Content marketing is not only about personalization, but also about being found digitally in the market. May it be via the website, the social media channel or other digital channels. And to be found, search engine optimization (SEO) is one of the most important adjusting screws. Accordingly, companies should look at which SEO-specific features a CMS should have for them. A good CMS, for example, generates appropriate URLs from the content and offers the possibility to design individual snippets. In addition, companies should consider whether a CMS supports navigation without Flash or JavaScript and enables breadcrumb navigation. Automatic linking to new documents is not only important for SEO, but also makes your employees' work easier. Just like an XML sitemap that can be created automatically or automatic forwarding via status code 301.
Additional services
For companies, CMS selection also means taking a look at additional services offered by the providers. Especially if your own IT resources are limited. Does the CMS provider offer implementation support, for example? If not, you can also rely on partners for CMS implementation, which we present in our CMS integration service provider comparison. Is there integrated help within the CMS solution to assist employees with their work? Or does your company need online or face-to-face training for the new CMS? Sometimes a possible contact to the community support helps if this service is offered. Therefore, ask yourself what additional services you need in terms of implementation and training.
Pricing
The last item on our checklist is the various pricing approaches for content management systems. In addition to enterprise solutions, as we present in our market overview, there are of course also free CMS solutions. However, as mentioned above, these are sometimes significantly limited in their range of functions. If you are faced with the choice of a CMS, you should set a clear budget for the software and deal with one-time and running costs. Answering the following questions will help you here:
How much budget is available annually for the CMS?
What are the one-time costs (e.g. setup costs, one-time license purchase, etc.)?
Which running costs have to be included (subscription contract)?
What is the starting price for the CMS per year?
How long is the minimum contract period?
What other costs (e.g. for extensions) are incurred?
How quickly can the CMS be used?
In our article on project costs in the CMS area, you will also find a detailed look at the cost calculation for the implementation of a content management system.
Want to learn more about the features and providers of CMS software solutions? In our free market overview of CMS solutions, you will find a detailed comparison of 17 enterprise content management systems. You can download the comparison here via the download form:
By clicking on the download button you agree that your company e-mail address and your company name may be transmitted to marketingandtech.com (Digital Diamant GmbH) for advertising purposes, also by e-mail, and for market and opinion research. With your consent, you will also automatically receive the marketingandtech.com newsletter. The declaration can be revoked at any time via a link in every e-mail.
Conclusion
As with almost all software selection processes, the choice of CMS stands or falls with a detailed requirements catalog. Companies should therefore list exactly to what extent they need industry-specific solutions, what language coverage is necessary and how the range of functions must be designed. Particularly in terms of functions, interfaces and expansion, you should take into account increasing requirements in the future and ensure sufficient flexibility. Last but not least, legal criteria and the costs incurred play a role in the selection of the right content management system for your company.