Creating relevant and interesting content remains a challenge – even in the coming year. An editorial plan template helps to define content for different channels over a longer period of time – and to adjust it early if necessary. But there are often gaps in the editorial plan. Filling them can cause resentment, because the demand for quality remains, of course. We present six strategies for your content calendar that not only fill gaps, but generate interesting content.
Your marketing team already has a content marketing strategy. Your company has clearly defined its content marketing goals: Increase sales, expand awareness, strengthen brand image and more. The editorial plan for the current year has been laid out. And filled with relevant topics for your target group for the first few months – or beyond. But by now, the editorial plan or content calendar has not yet been completely worked out. In some companies, it may just be isolated gaps. The majority of marketing teams, however, face major content gaps. Occasionally, things don't always go according to plan either, and articles drop out or can only be used late. In both cases it's important to use different strategies to fill the white spaces in the editorial plan with topics and content. Here are six content calendar strategies to help you continue to deliver quality articles.
1. Break up topics: Generate new content from (existing) cornerstone articles.
Not all articles are Big Content Pieces. But some are. Extensive blog posts (called cornerstones) in particular offer scope for smaller, specialized content in content planning. The topic "Content Marketing in Enterprise Use" is an example. A cornerstone should cover the topic extensively and briefly address almost all important aspects. The emphasis is on "briefly". Individual areas of the Cornerstone article can be broken up in detail in so-called satellite articles. For the example mentioned, this means that you write articles on the topics "Creating an editorial plan" or "Differentiating between paid, owned and earned media", for example. The list is derived from the sections your marketing team maps in the Cornerstone. By the way, breaking up topics for new content is a great way to set internal links. Last but not least, they are among the many ranking factors on Google.
2. Build content stack through SEO analysis
If you have not yet written a Cornerstone article on a topic, you can create a content stack directly with the help of SEO analyses. To do this, use SEO tools to analyze relevant keywords for the main topic, such as social media marketing. Besides paid keyword tools, there are many applications for free keyword research. The main keyword entered usually consists of phrases with two to three words that your target audience is searching for on the web. Based on the entered main keyword, you can have further keyword ideas output in the respective SEO tool. Based on these, you then identify further topics around the main keyword. Important: The related search terms usually have a lower search volume than your core topic. For social media marketing, related search terms for other core topics can include: content optimization for social media, tips for social media posts, social media image sizes, or even a post on social media monitoring tools. At the end, you will receive a mind map with a core topic and further subtopics. At the same time, you have already identified the respective keyword on which you will optimize your post.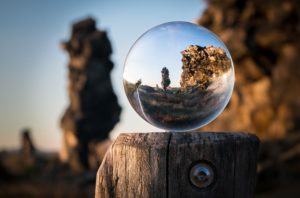 3. Change of perspective for the editorial plan
Another way to plan new content is to change perspective. A topic in the editorial plan can be viewed in several ways. If you have already covered a (blog) post with a focus on best practices or tips, you can look at it from the opposite direction. For example, instead of "Tips for successful content," it might then read "Content marketing: beginner mistakes you should avoid." The change in perspective can be used for almost any content idea. There are no limits to creativity here. If you plan so-called "Evil Twins" into your editorial plan, it also makes sense to stretch them out in time. Depending on the existing content, it may also be necessary to generate new topics first before the perspective change method can take effect in detail. Here are some examples of "Evil Twin" content:
| | |
| --- | --- |
| Topic | Evil Twin |
| How to make your content strategy successful | Avoid typical mistakes in content marketing strategy |
| Social media monitoring in companies | The five most common mistakes in social media monitoring |
| Using Visual Content in Marketing | What not to do when using images |
| FAQ discussion material | Why FAQs are not useful |
4. Content curation fills the editorial plan with external content
The editorial plan doesn't have to be limited to content you've created yourself. You can easily use content from third parties that you come across during research on Facebook, Twitter, or other channels. In this case, you use the process of content curation. This process is a marketing measure that relates primarily to social media channels. In this process, you collect content for your editorial plan that has already been published by third parties. However, do not simply post this content without prior quality analysis! Simply sharing a link is not the goal. Rather, the goal is to evaluate the content in advance in terms of its information content and, if the analysis is positive, to also comment on the shared link. You can find out exactly how to do content curation in our main article "Content Curation – What Is It Actually?".
5. Competitor analysis: inspiration from competitors
Topics in your editorial plan should be able to perform several tasks. On the one hand, generate traffic to your blog and/or website. On the other hand, you should also be able to take current trends into account and, last but not least, serve lead generation, depending on the article. Especially with regard to topicality and trends, but also with regard to evergreen content, the competitor analysis can be a source of ideas. Therefore, look beyond your own company in a content audit: Which topics are currently present at your competitors, which can be found on their Facebook, Twitter or Instagram channels? And how is the content received by the competitor's target group? It is expressly permitted to be inspired. Content from competitors can serve as a template. But only as a template: you should avoid duplicate content at all costs. Analyze the competitor's content and see where they may have gaps themselves that you can fill with your content. Sometimes you will find related topics in which you may even be particularly well informed – and can stand out as a result. Also remember that content is not just text. It's quite possible that your competitor wrote a post on a topic, but it wasn't well liked. Maybe it wasn't the right content format and you can address the topic differently in your editorial plan. How about a video? Do you already have your own podcast – then maybe a new episode is the right format? Don't limit your editorial plan to just blog or website articles. This gives you more room to play along with competitor monitoring.
If you want to analyze your competitors automatically for content ideas, a social media monitoring tool and social listening are suitable measures. We tell you how to use social listening effectively in your company. Do you need an overview of monitoring tools? Then read our market overview.
6. Is new content really necessary? Reposts with quality
All previous editorial plan strategies are based on the assumption that you want to create new content. But does it have to be a new text, a new video, a new podcast episode every week? Companies put a lot of resources into content production. As Semrush's "Content Marketing: Facts and Figures for 2020 study" (german language) shows, the budget for content marketing in 2019 was $10,000 for most companies. More than 62% of respondents said they would further increase the budget for 2020. The problem: there is now an enormous content overhang. Standing out with unique content is becoming increasingly difficult. For your editorial plan, this means: Go for class instead of mass. If you have published extensive content, you should analyze it – unless you want to deal with a completely new topic. For example, use an analysis tool such as Google Search Console. The tool can be used to examine the performance of individual web pages. The keyword query for the published content is available in the analysis. In this way, you can see how a post performs for the keywords you are looking for. As a rule, there is always a need for optimization of existing content. Both in terms of SEO, and depending on the topic content. In addition to your editorial plan, you can create a plan for reposts. For example, create an Excel spreadsheet with Google Search Console results for your website. You'll get a list with data such as clicks, impressions, and position in Google search results for each web page in your domain. Based on the information, you can do repost planning and incorporate it into the editorial plan.
Conclusion: Content calendar strategies help fill gaps and produce interesting content
Filling the editorial plan is still one of the central tasks in content marketing, in order to publish content literally with a plan. The strategies presented are basically suitable for every company and every blog. However, depending on the amount of content already available, it is sometimes advisable not to focus exclusively on new content. Optimize existing articles that are well received by your target groups. In addition, you should always be on the lookout for current topics. Last but not least, take enough time to do keyword research so that you identify relevant content. And remember to change your perspective every now and then and look at content from a new point of view.